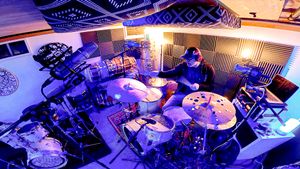 I started life like most humans, covered in placenta and with minimal motor skills. After a few less awkward years, I learned to use both hands and feet as a groove-oriented drummer throughout the Boston music scene. 
When the '90s came around, I found myself in a high energy original power trio. It was a wild ride headlining major rock clubs from Boston to New York City and beyond. 
Today I perform regularly with The Boston Naturals, Jennifer Tefft, and Half A Mind to name a few.

My favorite gig to date: playing Abbey Road Studios in London in November of 2022 with The Boston Naturals.
When not performing publicly, I can be found in my home studio, building as well as recording drums for various personal and professional projects  \m/